PicoSure Laser
PicoSure laser is the world's most advanced pigmentation removal treatment, offering a complete skin revitalisation.
PicoSure laser delivers ultra-short picosecond pulses of energy to target and reduce pigmentation, without damaging the surrounding skin. It is also an effective treatment for improving texture and reducing fine lines.The result is skin that is rejuvenated and that you can feel confident in.
Benefits & Results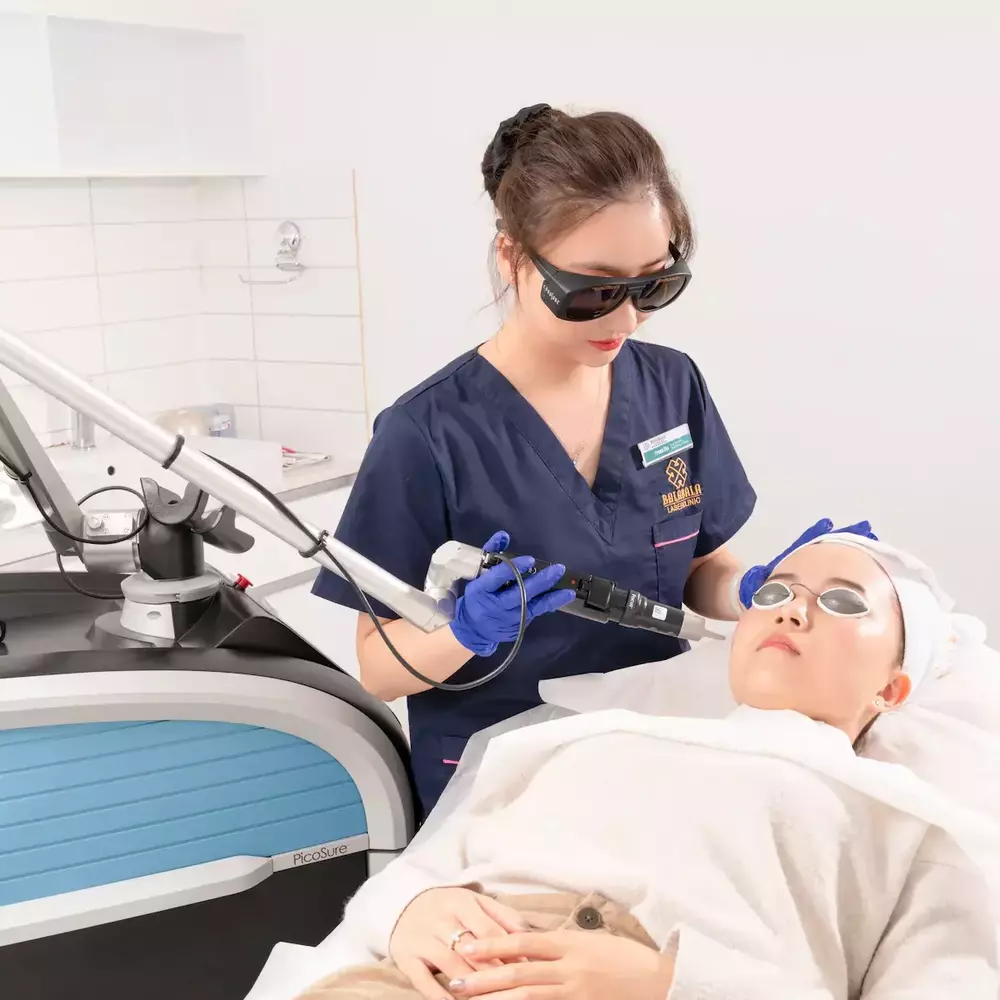 PicoSure Laser for Pigmentation Removal
PicoSure laser treats pigmentation by delivering ultrashort pico-second pulses to the skin. These ultra-short pulses penetrate deep into the skin to shatter tiny pigment particles without burning the surrounding tissue. These broken down pigment particles are then naturally metabolised by the body.
Book a free skin consultation
What causes pigmentation?
Pigmentation is the darkening of skin that results from an overproduction in melanin. There are a variety of causes of pigmentation, including ageing, sun damage, genetic factors and post-inflammatory hyperpigmentation caused by injury or inflammation to the skin. BalaBala Laser Clinic offers complimentary skin tests using Visia which allows our practitioners to objectively assess your pigmentation concerns. 
Why choose PicoSure laser for pigmentation removal?
The 755nm wavelength

The 755nm wavelength is unique due to the depth of the skin that it penetrates. This 755nm wavelength has a very high melanin absorption value, while still being gentle to the surrounding tissue by minimising thermal damage. In comparison, a 532nm wavelength has a higher melanin absorption value. However, it also has a higher risk of causing damage to the skin, such as post inflammatory hyperpigmentation.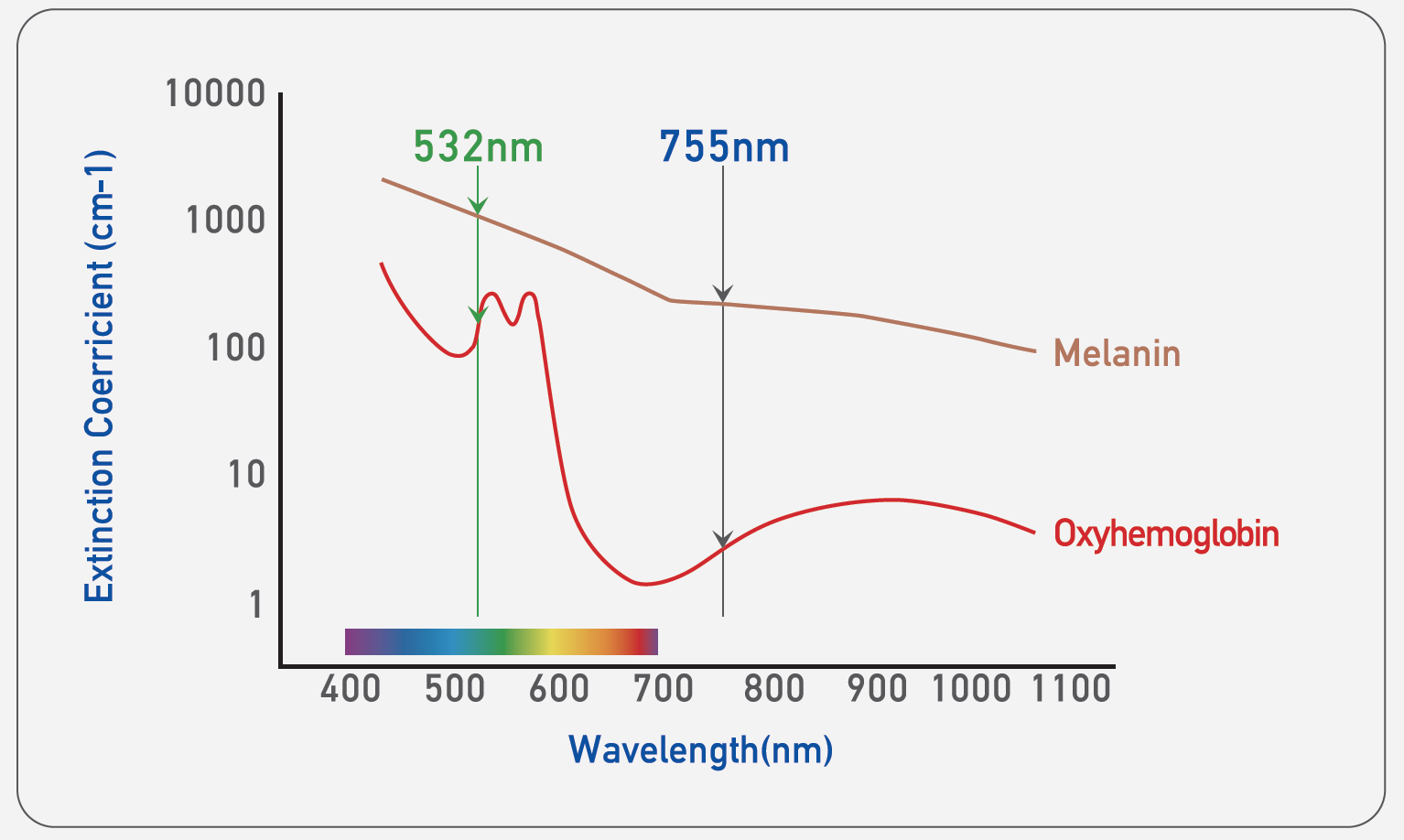 Due to PicoSure laser's 755nm wavelength, it can deliver more effective pigmentation removal, while minimising the risk of side effects.
Focus Lens Array
Picosecond technology combined with the powerful Focus Lens Array technology (Beehive shaped lens) works in a similar way to a fractionated laser. This lens focuses the laser into 20x the energy, delivering ultra-short pulses that penetrate and break down damaged skin cell layers. This results in skin that is smoother and healthier.
What's the difference between PicoSure and Fotona lasers?
PicoSure laser is effective at removing pigmentation that is located in the deeper layers of the skin. At your skin consultation, we will do a Visia skin analysis to determine which laser treatment is best suited to your skin concerns. This is based on the type of pigmentation that you have, as well as the depth of the skin that the pigmentation is located.
Many of our clients see great results from combining PicoSure laser with Fotona laser treatments. Our friendly staff will be able to recommend a personalised plan to treat your pigmentation concerns.

Book your free skin consultation
PicoSure Laser - Before and After
Common Questions
What skin concerns can be treated with PicoSure?
PicoSure laser can treat a range of pigmentation concerns including sun damage, age spots, melasma, hyperpigmentation, freckles and more. It is also effective at improving skin texture and reducing fine lines, due to its collagen stimulating benefits. 
How many treatments will I need for pigmentation removal?
This depends on the skin concern that is being treated and your desired results. For most clients, we recommend starting with 3 sessions of PicoSure laser spaced one month apart. Clients who are treating concerns such as melasma and acne scarring may require more treatments. Our skin specialists will be able to create a personalised treatment plan for you during your free skin consultation.
How long do I have to wait to see results?
For pigmentation removal and skin rejuvenation, most clients begin to see results around 2 to 3 weeks after their first PicoSure laser treatment. Results will continue to improve as you complete your recommended treatment course.
Is there any downtime?
There is minimal to no downtime with PicoSure laser. Most clients will experience some redness that usually goes down within 24 hours. Our laser specialists can recommend post-laser creams to manage redness.