Collagen Stimulators
Collagen stimulators are an advanced form of dermal filler that stimulate collagen and elastin, while restoring volume. For skin that is firmer, rejuvenated and contoured - you cannot look past collagen stimulators for natural looking results.
Benefits & Results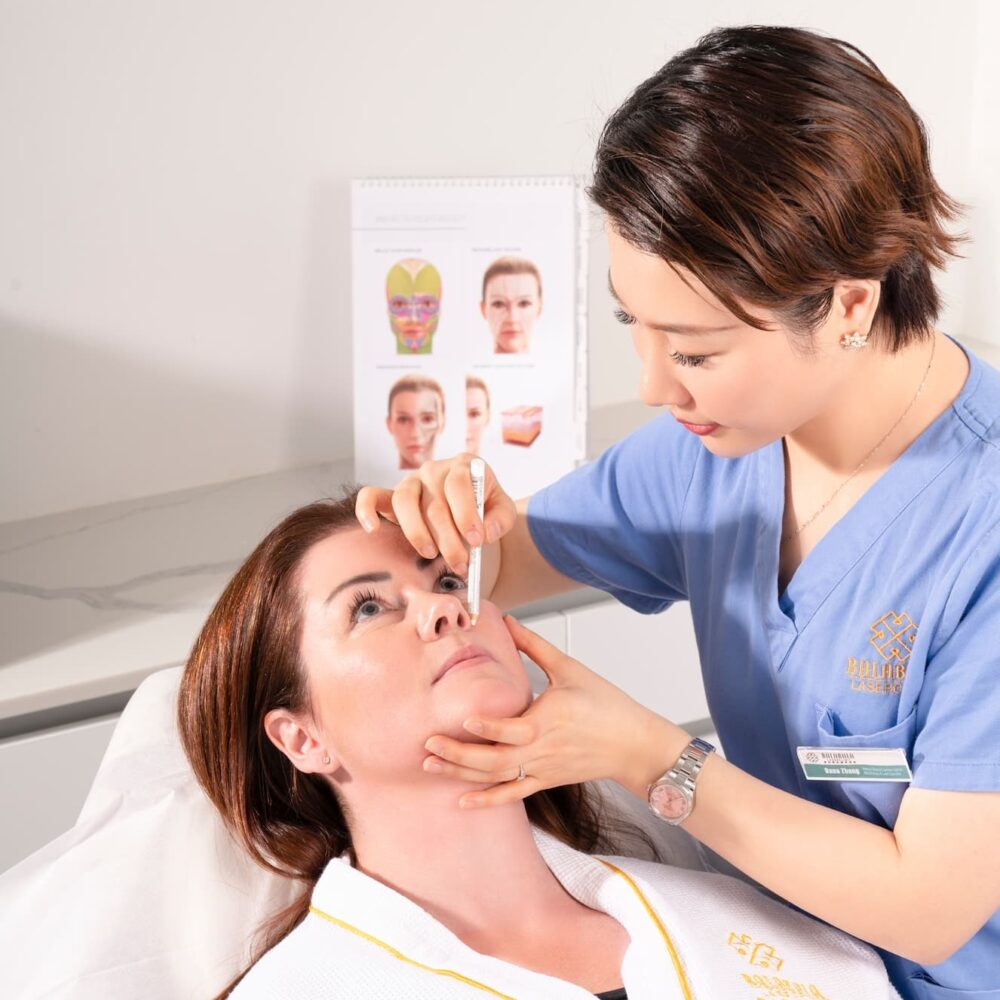 Stimulate collagen, while adding volume
Collagen stimulators are advanced forms of dermal fillers that can stimulate collagen production for long lasting, natural results. While traditional dermal fillers are used to add volume and structure - they are not designed to stimulate collagen production and resolve the underlying causes of facial ageing.
The first noticeable benefit of collagen stimulators is the volume and contouring benefits that it provides. Collagen stimulators contain tiny particles that are evenly distributed in the carrier gel which fills out wrinkles and restores volume. The real magic is seen over the next few months, as these tiny particles help to boost your body's natural collagen production - improving your skin's firmness, elasticity, tone and texture.
Collagen stimulators provide long lasting results
Collagen stimulators have gained popularity due to their long lasting results. Depending on the type of collagen stimulator brand used, results can last upwards of 18 months, with some clients seeing results last for up to 3 years after a full treatment course. 
Collagen stimulators provide both immediate and progressive results. The treatment yields an enhancement in volume, contouring and definition immediately following your treatment. These results are sustained as a result of the stimulation of collagen production. As results develop gradually, collagen stimulators are perfect for those who are looking for a treatment that produces natural looking results. BalaBala Laser Clinic recommends to do a yearly touch up to maintain desired results. 
Book your free skin consultation
Where can collagen stimulators be used?
Treatment areas include:
Cheeks
Nasolabial folds
Temples
Jawline
Marionette lines
Butt lift
Common Questions
Who are collagen stimulating fillers suitable for?
Collagen stimulators are suitable for those who are looking to stimulate collagen to rejuvenate the skin - improving skin laxity, reducing wrinkles and giving the skin a healthy glow. 

What brands of collagen stimulators do you use?
Due to strict TGA regulations regarding the advertisements of prescription medications, we are unable to disclose the brands of collagen stimulators that we use at BalaBala. However, we offer two of the leading collagen stimulating injections in the industry, allowing us to recommend the best option for your desired outcomes. 
What to expect during the treatment?
Before administering collagen stimulating fillers, our nurses will cleanse your face and then apply numbing cream to the treatment area. The collagen stimulator treatment will usually take around 60 to 90 minutes, including the preparation time.

How long do results last with collagen stimulators?
The results from collagen stimulators are long lasting. Depending on the type of collagen stimulator used, results can last between 18 to 36 months, following a full treatment course.
How do collagen stimulators compare to non-invasive skin tightening treatments?
Both collagen stimulators and non-invasive skin tightening treatments such as Thermage FLX stimulate collagen production. However, the way in which they stimulate collagen production differs, as well as the results they achieve. During your complimentary skin consultation, our experienced staff will recommend the best treatment option based on your skin concerns and desired results.