Mesoestetic Chemical Peels
Chemical peels work by exfoliating away your dead skin to reveal healthier, smoother, more radiant skin. BalaBala Laser Clinic uses advanced Mesoestetic peels to target a wide range of skin concerns.

Benefits & Results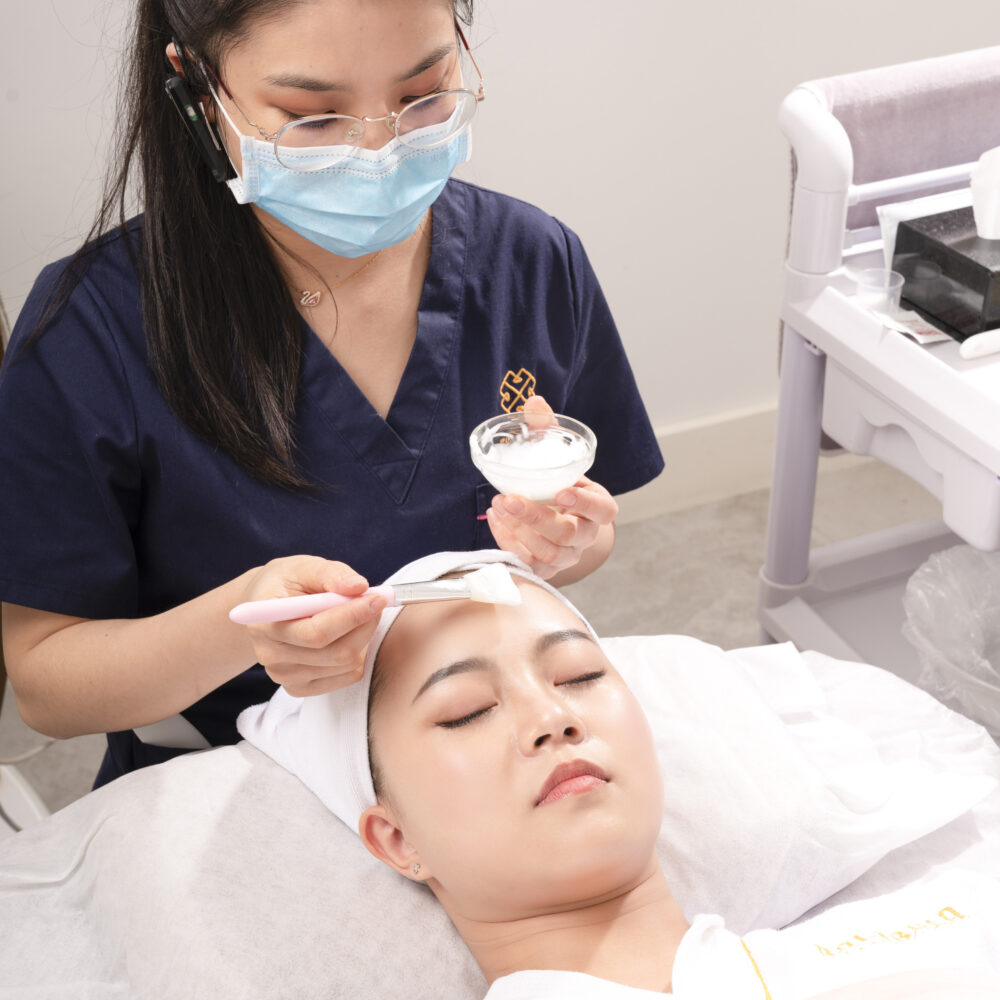 How do chemical peels work?
Chemical peels are great for those who are wanting brighter, more radiant skin. Cosmetic grade chemical peels can help to increase the rate of skin cell turnover. By increasing cell turnover, healthy new skin cells are revealed - evening out the skin tone and helping to remove unwanted pigmentation, texture and dullness.
Exfoliants such as glycolic acid, lactic acid and salicylic acid are all popular choices for Mesoestetic chemical peels. Our experienced staff will recommend the best active ingredients for your skin type and skin concerns.
Book your free skin consultation
What does a chemical peel involve?
Skin Preparation
Your treatment will start with a gentle cleanse to prepare your skin. Vaseline will be applied to sensitive areas (such as the corners of your mouth and nose) to prevent irritation. 
Chemical Peel Treatment

The Mesoestetic chemical peel solution will be briefly applied to the skin, before being neutralised. The length that the peel is applied to your skin will depend on your skin type, skin condition and strength of the chemical peel being applied, amongst other factors.

Skin Nourishment 
The chemical peel will be followed by facial masks and other hydrating products to soothe and calm the skin. The treatment finishes with a LED Light therapy to increase skin cell renewal and aid with the healing process.

Chemical peels for acne
For the treatment of acne, salicylic acid chemical peels are effective at targeting the underlying causes of acne. This includes the acne causing bacteria that are on the face. The Visia Skin Analysis photo shows a decrease in porphyrins (acne causing bacteria) after a series of chemical peels, indicated by the yellow dots on the photo. Chemical peels using salicylic acid also help to reduce inflammation, reduce oil production, unclog blocked pores and even out stubborn acne marks. 
Book your free skin consultation
Common Questions
Who is it suitable for?
All skin types can benefit from chemical peels. Based on your skin type and skin concerns, our skin experts will recommend a chemical peel to suit your skin's needs. Chemical peels are suitable for most skin types and are effective at treating a broad range of skin concerns. Pregnant or breastfeeding women should avoid chemical peels.

How many chemical peel treatments will I need?
This will depend on the type of skin concern that you are looking to treat. For treating pigmentation, we generally recommend doing a series 3 treatments spaced one month apart. For acne concerns, we recommend a course of 3 to 6 peels fortnightly.

How long between chemical peel treatments?
The time required between chemical peel treatments is dependent on many factors - including your skin type, the type of acid used, and the concentration of the peeling agent. We recommend most clients to wait 4-6 weeks between treatments.

When can I expect to see results?
Many people can see a significant improvement in the appearance of their skin tone and texture after just one peel treatment. Those with mild or very superficial skin concerns may see improvements in their skin appear sooner. The severity of your skin concerns and your skin type will also dictate how quickly you will see results.

How long will my skin take to heal after a chemical peel?
The recovery period from a chemical peel depends on the concentration of the peeling acid used. Most clients will experience some redness and sensitivity following their chemical peel. It is important to liberally apply sunscreen and avoid sun exposure during this period.